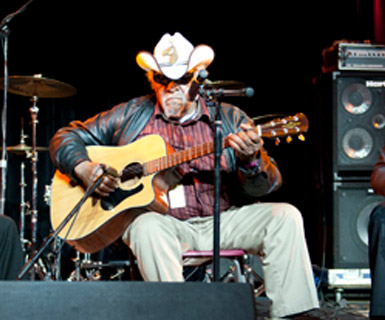 Blues Jam
Mar 22, 2020
Featuring "Guitar Man" Warner Williams


FEATURING 2011 NEA National Heritage Fellow and "Guitar Man" WARNER WILLIAMS

Guitarist and songster Warner Williams is one of the greatest unsung heroes of the Piedmont blues—an Eastern seaboard style that incorporates fiddle tunes, ballads, country and popular songs, ragtime, and gospel.

The son of a cement finisher and a house cleaner, Williams was one of 11 children raised in a musical family. He was a garbage collector in Maryland for nearly 60 years.

By his early teens, Williams was hopping streetcars to get to the District, often paying his fare with a song. He'd wander through the city, playing tunes for change until police shooed him away.

At 22, he won an on-air talent show on WWDC hosted by Jackson Lowe, a white DJ who was an early champion of R&B. Williams started playing juke joints and house hops around the Maryland suburbs soon after.

When Williams married his wife, Karoline, and started his family, he continued to play on weeknights and weekends. All the blues legends tried to get him to go on tour with them — B.B. King the most notable. But he was afraid he would die on a tour bus, and he did not want to leave his family, so he always said no, only playing with them when they came to D.C.

Williams's major-label debut, "Blues Highway," was released in 2004 and helped bring him to wider attention. Summerour has also helped guide Williams to bigger gigs at Wolf Trap, the National Folk Festival and other spots in recent years, but Williams is still more likely to be found playing a house party or a small club or busking on a street corner.

At the age of 88 Mr. Williams plays the fourth Sunday of each month at O Museum in The Mansion.

Bring your groupies, entourage and guitar, banjo or whatever you want to play (or not) and participate in a live jam session with Warner.

Musicians no entrance fee. If you would like to attend a jam and you are not a musician, please reserve the "friends & family jam & tour".