Upcoming Benefit Performance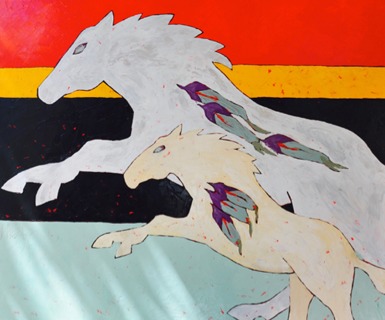 The Art of Thom Wheeler: rebirth. transformation. healing
Mar 6, 2020
Exhibit Opening
Proceeds go to support the artist-in-residence, heroes and other programs at O Museum in The Mansion.
Learn more about our museum programs
Thom Wheeler is a Texas native who became one of Houston's foremost contemporary sculptors in the 1970's/80's, creating many large commissions for corporations and architects, commercial and public spaces such as hotel and bank lobbies. He worked in grand scale ranging from 54 feet for bas relief works to 60 feet tall three dimensional pieces. Major works were executed for Banco di Roma, Rome, Italy; The Grand Hotel, Houston; and Ole Miss University, Oxford, Mississippi among many others. Private collectors include Dr. Jonas Salk and country music star Randy Travis.
He's had one-man shows in several cities including San Francisco, Palm Springs, and New Orleans, and been feature or cover artist in several publications including "Southwest Art", "New Mexico Magazine", and "The Houston Chronicle".
His materials are highly polished and textured metals such as brass, copper, and aluminum plate set with ivory, wood, cast glass, stag horn, and stone such as turquoise, malachite and jasper. His tools include the band saw, lathe, drill press, shears, kilns, welding machines, buffers, and sanders.
Thom moved to Taos in 1985 where he began concentrating on smaller pieces with a feeling for the icons of the West and Southwest - gypsy women faces, crosses, bucking broncos, howling coyotes, cow skulls, and the saguaro cacti. As he said, "You could call this my interpretation of Indian jewelry." He actually calls these works "wall jewelry".
_____________________
Cash bar.
---
The O Museum in the Mansion
Exploration and Discovery
Dedicated to serving cultural, scientific, and educational growth through the creative process, we foster inner strength and peace through diversity, to provide a unique forum that inspires guests to:
• Realize your vision
• Experience the creative process
• Inspire imagination
• Empower authenticity
• Dare to be different
The O Street Museum Foundation promotes and embraces life, from every culture, resulting in a wide-ranging collection of paintings, photographs, sculpture, books, artifacts, and music, from all over the globe.
The only museum of its kind, the O Street Museum is dedicated to exploring the creative process. The collection rotates and changes daily. From the art, to the music, to the surroundings, no visit is ever the same.
Here you will find artist's letters, sports & entertainment memorabilia, written manuscripts, rare photos, art, pop-culture, signed guitars (we have more than 60), one of the largest "raw and exposed" music collections and much more — our galleries are not limited to one genre.
O Street Museum offers an immersive, tactile experience making it one of DC's most unique attractions. Guests will leaf through manuscripts, touch sculpture, hear rare studio cuts, and tour through an array of diverse exhibits, achitectual styles, secret doors, and our legendary themed rooms — like the Log Cabin, the John Lennon Suite, the Safari room, and Mrs. Rosa Parks room (we were her home-away-from-home for nearly 10 years). We are a historic site on The African American Heritage Trail and designated as a 20th Century Civil Rights site by Cultural Tourism DC.
As a non-profit we offer a wide range of programs including artist-in-residence, heroes, concerts, jammin', author and artist talks, raw & exposed music, songwriter's workshops, and kids programs.
No matter where you look you will miss something. But it's not what you miss, rather what you're willing to see. Magic and miracles exist. Not just in the mind.
It's the simple things, small steps, the goals we choose, the way of life we want to breathe. How easily everything changes when you choose to look at the same thing from a different angle.